Taking Precautions Against Coronavirus
The news continues to change rapidly surrounding the dangers of coronavirus worldwide. With the widespread pandemic on our doorstep, many people are wondering how they can protect themselves against the dangerous COVID-19. Based on the CDC recommendations, we are taking the following precautions as well as taking steps to perform no-contact service calls: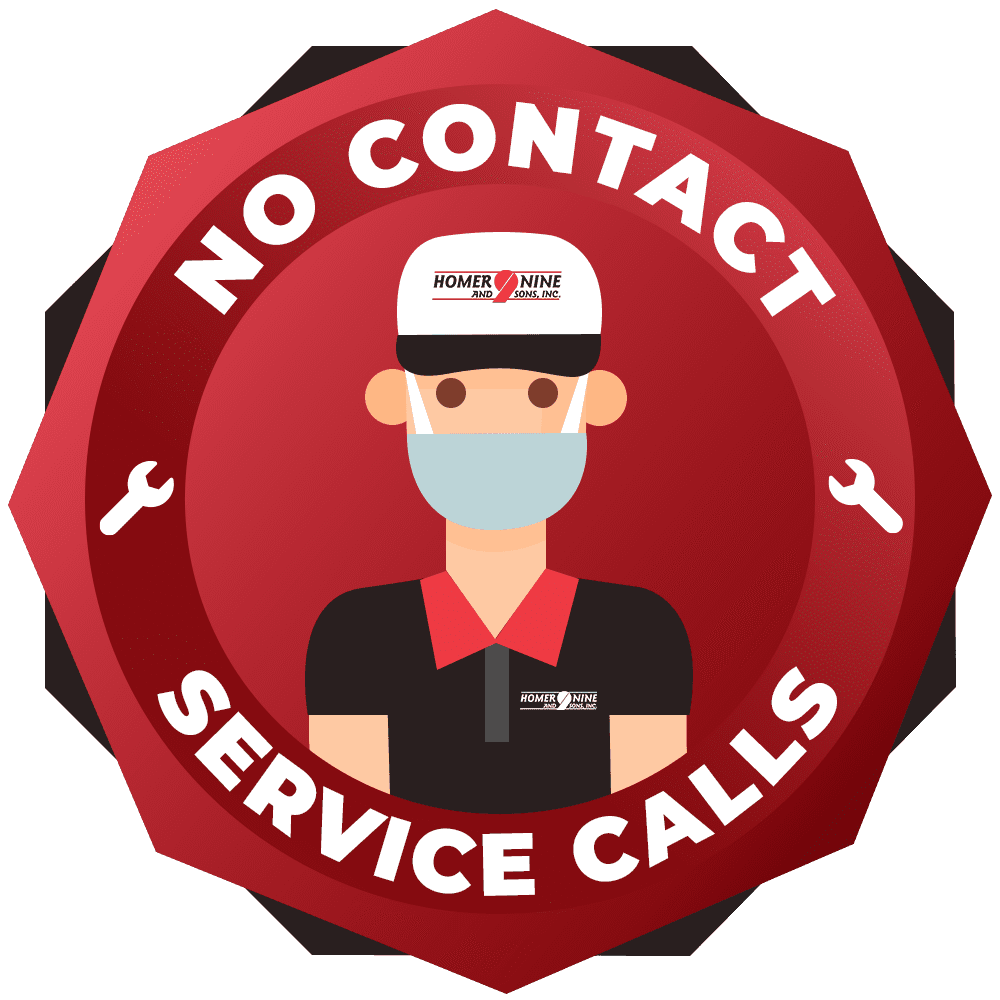 Providing hand sanitizer on all trucks and in our office shop
Not shaking hands with our customers
Wearing face masks, booties and gloves for all jobs
Daily temperature checks with all staff
Washing hands with soap for at least 20 seconds
Social distancing and practicing the 6-ft rule
Cleaning and disinfecting frequently touched surfaces
At Homer Nine and Sons, Inc., we are dedicated to your family's comfort and safety in everything we do. That's why, in this time of worldwide pandemic, we are doing everything we can to do our part to minimize the spread of COVID-19.
As has been recommended by the CDC, we are reinforcing our practice of vigorous cleaning and sanitizing of surfaces across our office, shop, and service trucks, including but not limited to:
Door handles
Bathroom surfaces
Tools
Electronic devices
It has always been incredibly important to us to protect the health of our customers and employees. For this reason especially, we are reinforcing our strict operating procedures, including our long-standing policy of not letting employees work while sick. We are also following CDC guidelines on necessary, illness-related quarantines. We are following these recommendations closely to ensure that the appropriate steps are taken to limit exposure.
For those who are able to venture out of their homes at this time, we are providing hand sanitizer dispensers in our office as well as our shop and encouraging our employees to limit contact with others such as by avoiding shaking hands. We are reinforcing our use of disposable foot covers and gloves on every worksite to prevent any potential contamination and benefit both our employees and our customers.
This situation is rapidly changing, and we believe it is imperative to keep our employees educated on the COVID-19 threat as well as the preventative measures and guidelines from the CDC that they are expected to follow.
At Homer Nine and Sons, Inc., we have always put the customer first. We are following the COVID-19 pandemic very closely and will adhere to all recommendations put out by the CDC and the WHO to ensure we are doing all we can to keep our customers and employees safe and healthy. Your comfort has always been paramount, which includes your health – especially in this current landscape.
---
If you have any concerns or questions about how Homer Nine and Sons, Inc. is approaching the coronavirus outbreak, please don't hesitate to contact us at (724) 241-8698. Your comfort and health are our priority.
---
We Can Help! Looking For Financing Options?
Learn more about what we're doing to provide the options you need
Financing Options
Read What Our Happy Customers Are Saying Working Together With Our Customers For Over 80 Years
"Homer nine served my furnace today. Tom was the tech. I could not be more happy with the service. I've been in service for 30 years. I will stay with Homer nine because of employees like Tom."

- Jeff D.